Outdoor living season
is almost here, so it's time to prep your patio/balcony/backyard for some warm-weather enjoyment. Whether you're hosting your pod or decorating for yourself, proper lighting is an essential part of creating the right vibe for your space. String lights are an easy solution that has a big impact, so we rounded up our favorites at all price points and styles that will make your outdoor space shine.
Outdoor Lighting Tips
Weave string lights across a balcony or stair rails. If you need more light in your outdoor area but are lacking in space, weaving string lights in balcony railings or stair handrails is an easy way to add both light and character.
Accessorize with light. Aside from string-up lights, consider bunching up a small strand and putting it in a vase, lantern, or mason jar (if you really want to go all out with the shabby-chic look). Another option: Wrap string lights around a piece of decor to add some unexpected sparkle.
Use light as a space divider. If you have a large enough area, you can use string lights to create different "zones" of your space. String lights over a table to create an intimate entertaining area, or use them to transform a dark corner into a cozy nook. Feel free to do some experimenting to find a method that works for your space.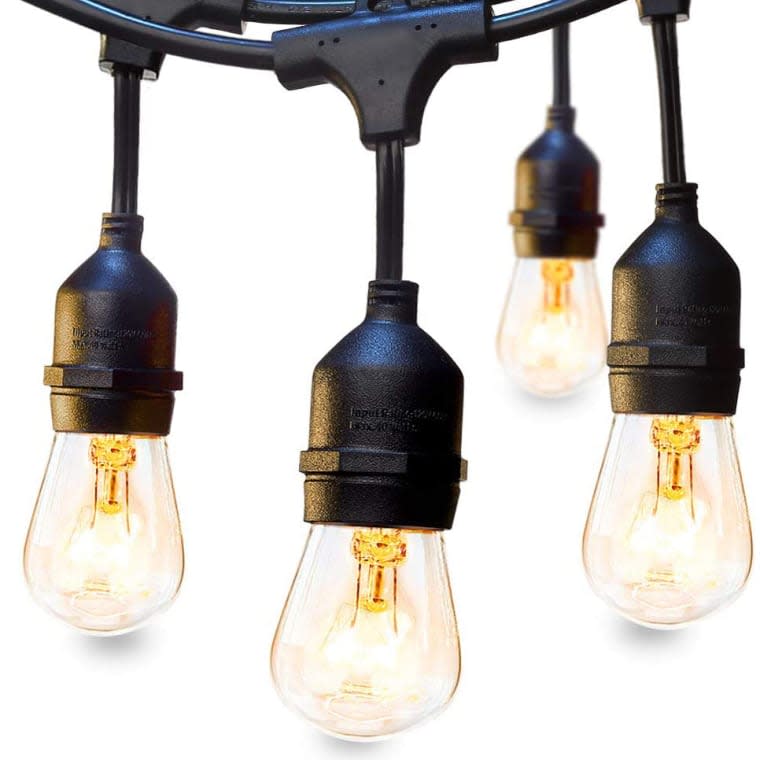 Candles may be the go-to for creating a mood, but string lights are easier and can add that lovely, easy-going, European-marketplace feeling to any
blah
space. I've been buying them for years and have tried many different kinds, and I gravitate to the dimmer and more unusual styles.
These Edison outdoor string lights from Amazon
are similar to the ones I first bought from RH for a lot more. Now they come in much more affordable versions, and they're just as awesome — not too bright and perfect for setting that casual mood.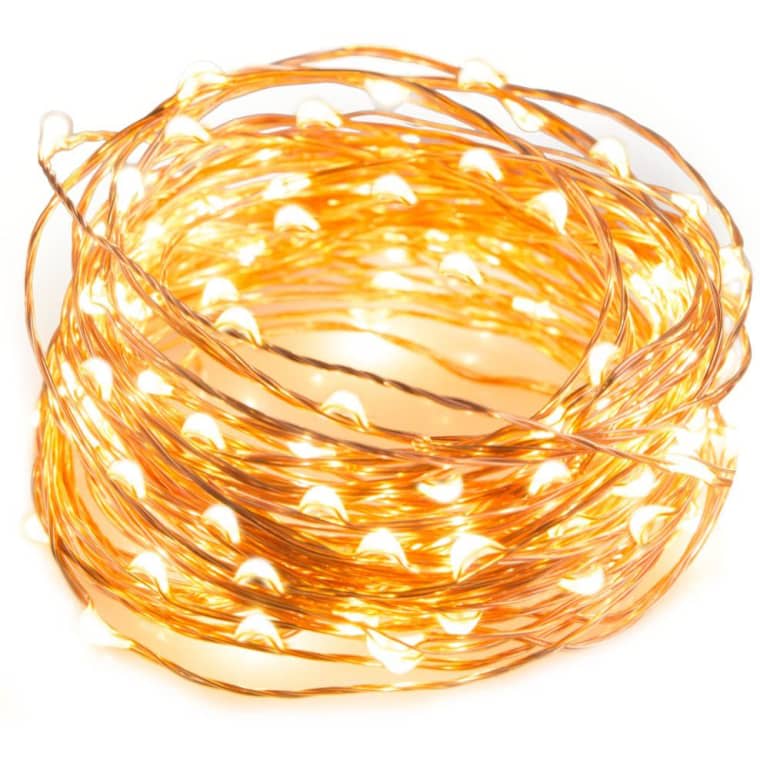 these LED string lights in my bedroom, but they can be used just as safely outdoors, too. Minimalist and made of copper wire that's easy to bend, these lights cast a soft glow that's perfect for intimate gatherings and smaller spaces that don't need to be fully lit. This pick is also seriously low priced, especially considering that you're getting 33 feet of lights for under $15.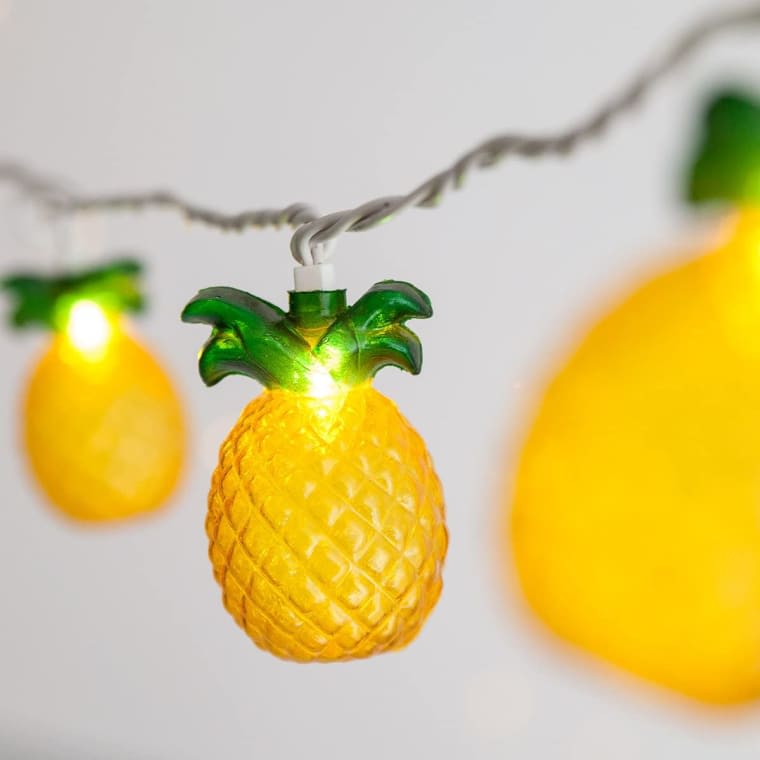 These pineapple string lights are good for summer cookouts, pool parties, or simply for your patio if you just really like pineapples. One strand spans nine feet, includes 10 lights, and can be connected to other strands.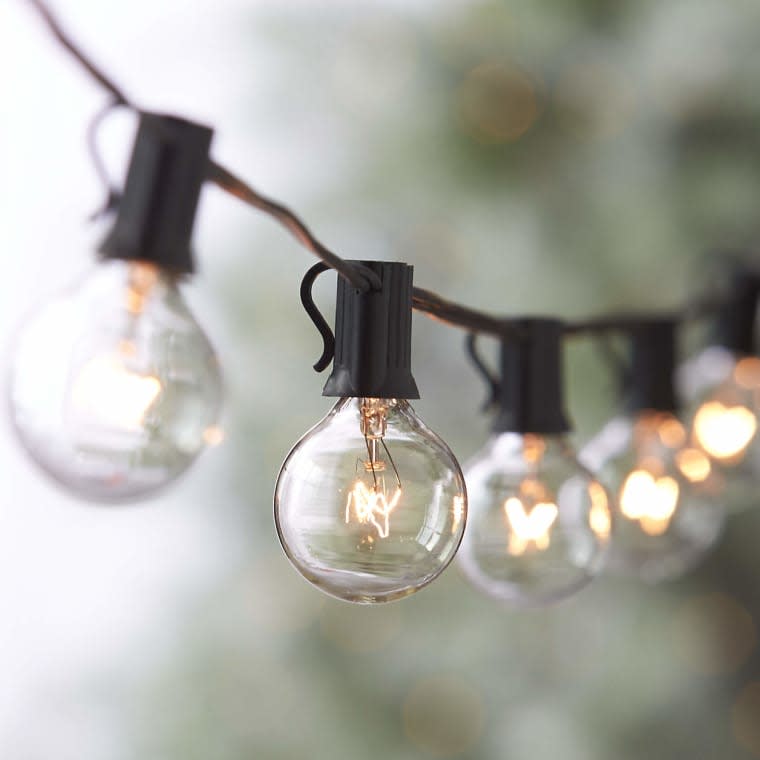 Inspired by cafe settings,
these globe string lights
look equally appropriate indoors and outdoors. In fact, our staff agreed that these are the most attractive of the bunch. There are three sizes to choose from, each with a corresponding number of bulbs: 25, 50, and 100 feet.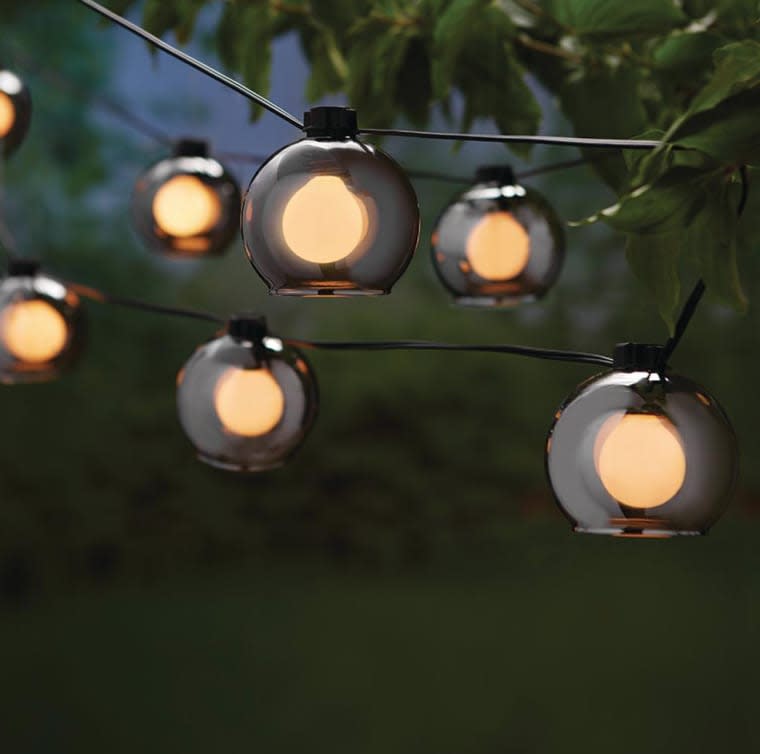 These string lights from Home Depot have a more sophisticated, contemporary vibe thanks to the glass globe shades, which also create a warmer glow than your average uncovered bulb. Each strand is 10 feet long and has eight lights, making it ideal for smaller spaces.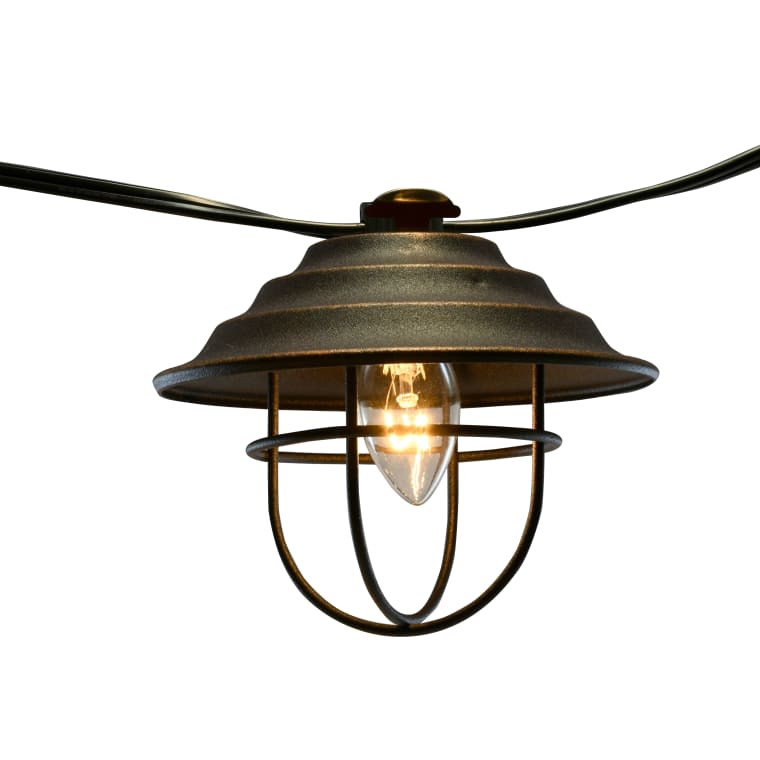 For a more substantial look, check out
these string lights from Walmart
. Meant to mimic the outdoor lighting found in cafes and restaurants, this strand has a bit more flair than the usual suspects and will definitely add a decorative touch to your outdoor space. Each strand has 10 caged lights and is suitable for both indoor and outdoor use.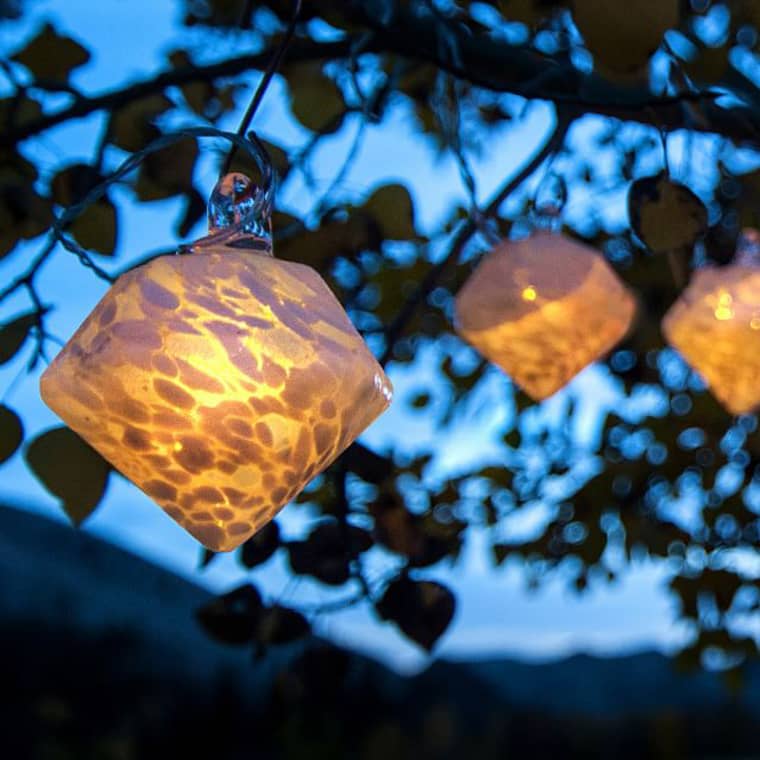 these string lights from Pottery Barn are made of subtly patterned glass globes that give off a nice, warm glow. They're also solar-powered, a major perk for any outdoor lighting. Each strand contains six globes and is 25 feet long, but be wary of water — Pottery Barn recommends these be used in covered spaces only.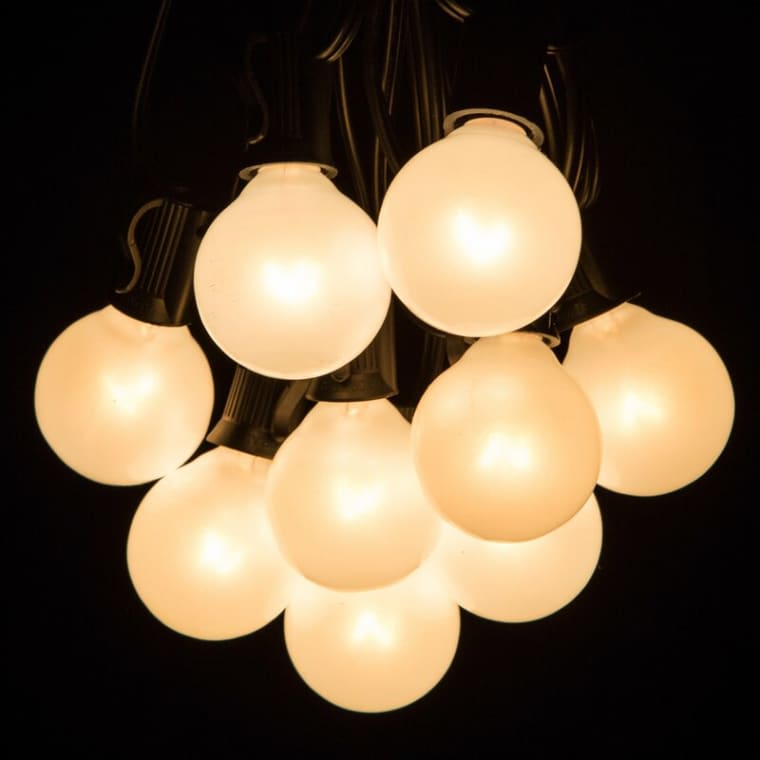 this extra-long string light option from Wayfair. Perfect for lighting up larger patio areas, barns, and fences, this 100-foot find is a great addition to any summer party. The globe style is especially trendy, and you can choose between black, white, and even green wire colors.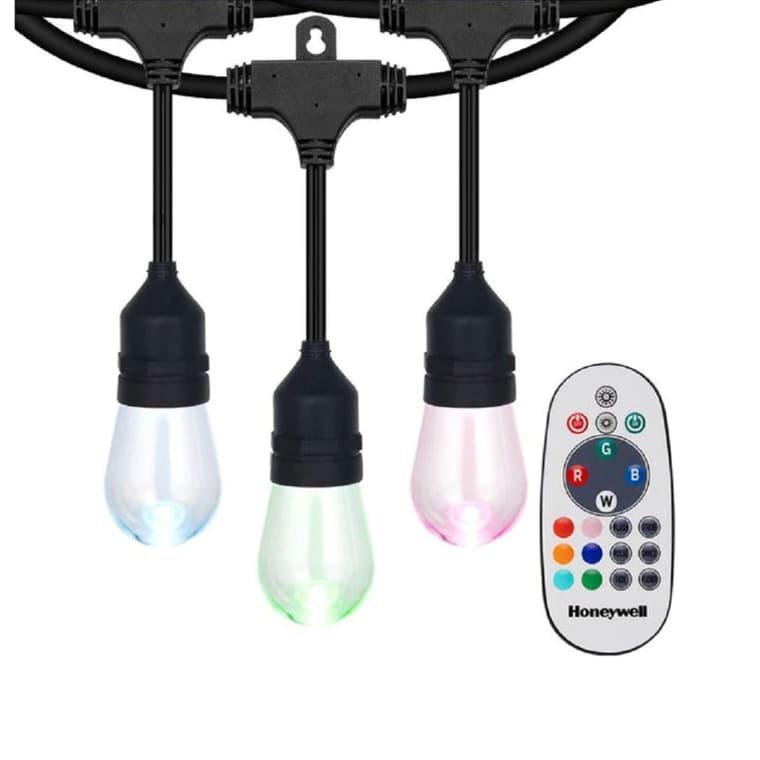 these color-changing LED string lights might be for you. On their own, they produce a warm, amber light. With the Color Change option (controlled via the included remote), you can select every color of the rainbow for a personalized glow. Plus, at 48 feet in length, you have a lot of freedom to decorate how you want.