The Orange County Register published a new blog series called "Train Station Dining Guide"? The train system in Orange County — stretching from San Clemente to Brea — has 11 stations, many of which offer a bevy of eateries, cafes and cocktail spots near the depots. Their second stop? San Juan Capistrano.
Notably, the carefully selected venues featured in this series are conveniently located within a reasonable distance from their respective stations, easily accessible by foot or wheelchair, and require no major roads or freeways for a delightful gastronomic experience.
In recent years, San Juan Capistrano, once famous for its historic mission and the return of swallows, has evolved into the premier culinary destination of South Orange County, and this trend shows no signs of slowing down. From Heritage Barbecue, offering both Texas and California-style barbecue, to El Adobe, a Mexican-American institution nestled within a state historical landmark frequented by a former U.S. president, San Juan Capistrano boasts a diverse array of dining options, most of which are housed in some of Orange County's oldest buildings. Remarkably, all of these eateries are conveniently located just a stone's throw away from the city's train station.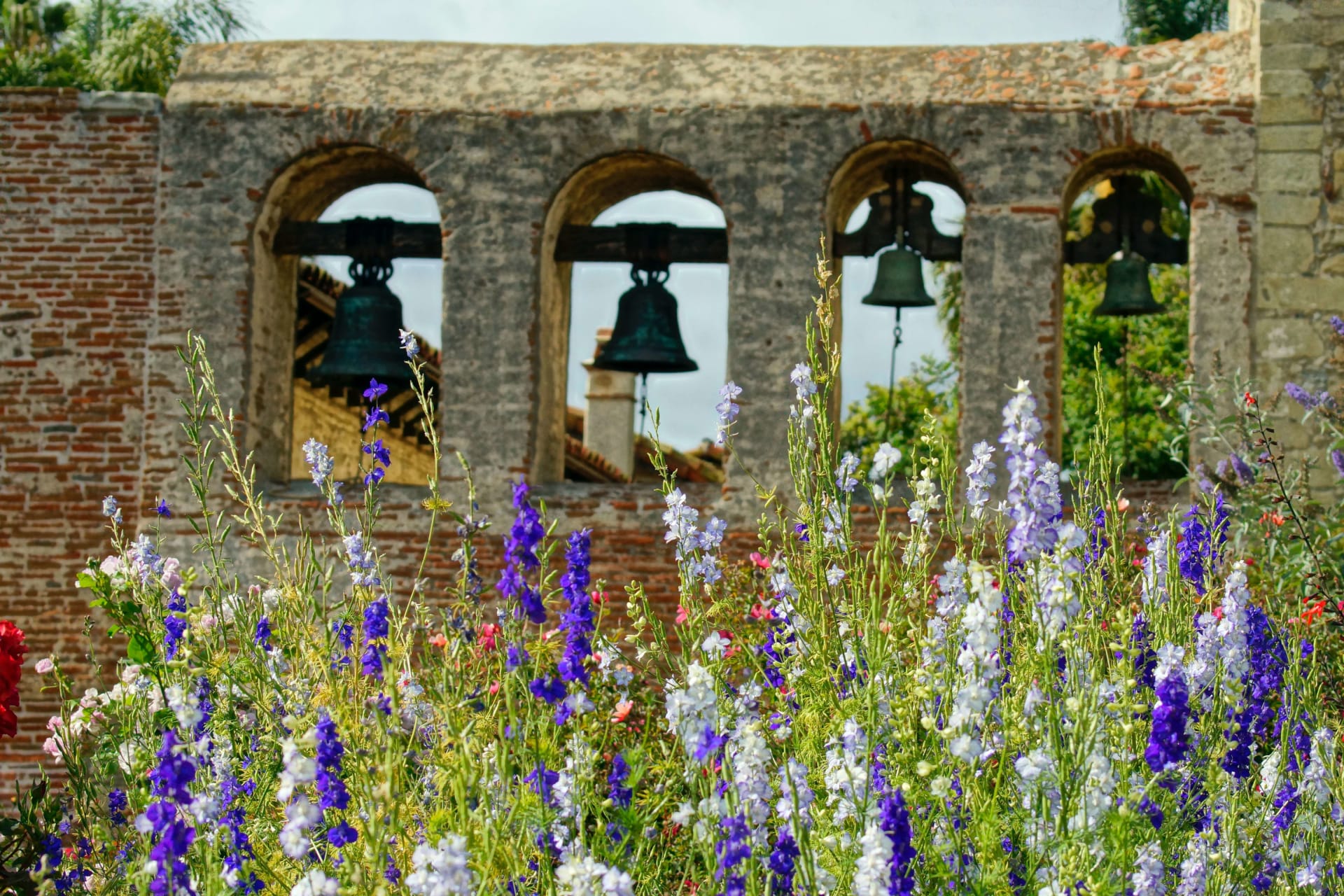 The city's Mission Revival-style train station originally opened in 1894 by the Atchison, Topeka and Santa Fe Railway. Today, it serves Amtrak and Metrolink lines, with Metrolink making a total of 15 stops on weekdays (eight to the north and seven to the south) and 12 stops on weekends (six in each direction). Amtrak's Pacific Surfliner makes 20 daily stops (10 in each direction). Among all the train stations in Orange County, the San Juan Capistrano station boasts the highest concentration of restaurants within the shortest walking distance.
Mayfield: Confit tomatoes, corn rib, pineapple glazed pork belly, za'atar fried chicken and orange blossom mousse are a few menu highlights at this Levant-style restaurant less than a block from the train platform. If you can't sit for lunch or dinner, grab a few bottles of wine, preserved lemon or tinned fish at its adjoining provisions market.
Bloom: This 2,400-square foot establishment, situated just a block from the train station, began operating almost a year ago. Since its inception, both locals and tourists have been attracted to Bloom's head chef, Jared Cook, and his delectable Southern-inspired comfort cuisine. Notable items on the menu include the tantalizing crispy pork belly, pumpkin-ricotta gnocchi adorned with candied walnuts and served with sage-infused brown butter, the indulgent bacon-braised black kale, a crispy Jidori chicken sandwich nestled in a challah bun, and a delightful vanilla and blood orange cheesecake. The spacious setting also features a well-lit 10-seat bar where they expertly craft cocktails, offer a selection of craft beers, and provide a variety of wines by the glass. The venue's arched windows offer picturesque views of pedestrians and the historic Mission situated directly across the street.
Ciao Pasta: A great option for Italian-American cuisine, offering a menu featuring a variety of salads, pizzas, and pasta dishes like porcini mushroom pappardelle and portobello ravioli. Additionally, they serve hearty entrées such as chicken parmigiana and branzino. It's a worthwhile choice, particularly if you're looking to avoid a lengthy wait at the nearby Heritage Barbecue – we highly recommend dining on the patio.
Easy Breezy: This frozen yogurt and custard chain serves a variety of ever-changing flavors, including options like pineapple Dole whip, berry cheesecake, vanilla bean, and vegan chocolate. Notably, they offer a delectable peanut butter sauce for generously drizzling over your frozen treat.
El Adobe de Capistrano: A favorite haunt of former U.S. President Richard Nixon during his stays at his nearby San Clemente residence, this Mexican-American restaurant has the unique distinction of being housed within a historical landmark. It proudly holds the title of one of Orange County's oldest operational restaurants, having opened its doors in 1948. Beyond its historical significance, diners can relish a range of offerings, including ceviche, cheese quesadillas, short rib enchiladas, an abundance of fajitas, lobster or blackened fish tacos, carne asada, and more.
Five Vines Wine Bar: Situated near the tracks, Five Vines Wine Bar has earned recognition as one of the top 25 wine bars in the United States, according to Travel and Leisure. They offer a diverse selection of reds, whites, rosés, sparkling wines, and even a unique "slushy" wine option. While savoring the various wine offerings, patrons can indulge in a delectable menu featuring dishes like three-cheese skillet mac and cheese, pear and brie skillet melt, chicken marsala poutine, a crispy chicken sandwich, salmon tacos, and an array of flatbreads. What's even better is that most of their food and wine items are available for takeout.
FKN Bread: Known as "eff kay enn," FKN Bread is a charming bakery founded by the husband-wife duo, Dave and Bree VandenBerg. They specialize in artisanal cookies, croissants, bread, and more. This quaint bake shop also crafts flavorful sandwiches, including roast beef, ham, tuna, turkey, and veggie options, as well as toasts like avocado, peanut butter and banana, or smoked salmon. Don't miss their house and caprese salads, and they serve coffee made from beans roasted by the nearby Hidden House.
Heritage Barbecue: Recognized as the number one restaurant in Orange County, Heritage Barbecue, founded by Brenda and Daniel Castillo, has gained acclaim for its Texas- and California-style brisket, beef, and pork ribs. It played a significant role in transforming the dining scene in OC, particularly in San Juan Capistrano, which has now become a foodie destination in South County. Be prepared for a wait, as Heritage fans start queuing up as soon as the doors open for business. As our former food critic noted in 2022, "Yes, they serve barbecue on aluminum trays, and you'll eat beans out of paper boats with a plastic spoon. And no, they don't take reservations. You'll have to stand in line, sometimes for hours if you try to eat here on a weekend. But there's no lack of hospitality. This is, all around, the best restaurant in Orange County right now."
Published by OC Register