A kitchen countertop plays a major role in the overall look of a kitchen, and they are a key feature to get right for a successful remodel. We asked established kitchen designers and remodelers to share which countertop materials, thicknesses and finishes they're loving right now and why. Read below to find out which trending kitchen countertop is your next move.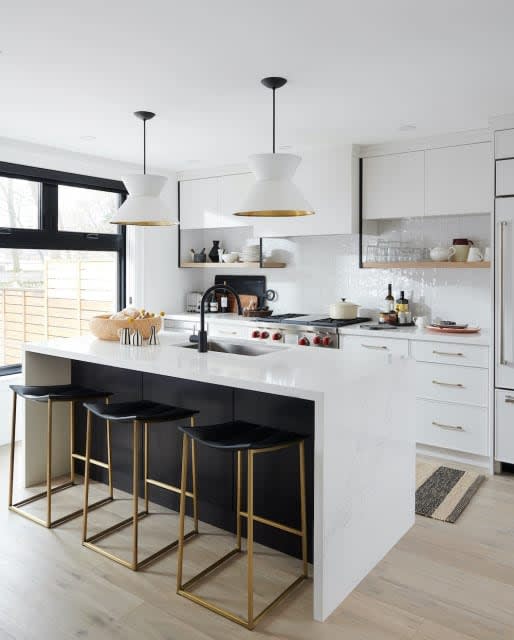 1. Material Matters
When it comes to selecting trending kitchen countertop material, a common decision a homeowner will make is whether to go with a natural or an engineered stone. The designers and remodelers we talked to told us that both materials are popular right now, but they do have their preferences.

Quartz. If you're looking for a durable countertop that comes in an almost unlimited range of colors and patterns, it's hard to go wrong with quartz, an engineered stone typically created from about 90% to 95% ground quartz and 5% to 10% resins and pigments.
"Quartz is very versatile and can work in any design. It comes in patterns that replicate the look of marble and other types of natural stone," says kitchen remodeler Louie Katsis of
Olympic Kitchens
in Toronto, who used quartz to create the waterfall-edge island in this recent kitchen remodel.
Katsis also appreciates the durability of quartz countertops. "Compared to other surfaces like granite, which needs a sealer to protect the surface from staining, quartz needs relatively no maintenance," he says.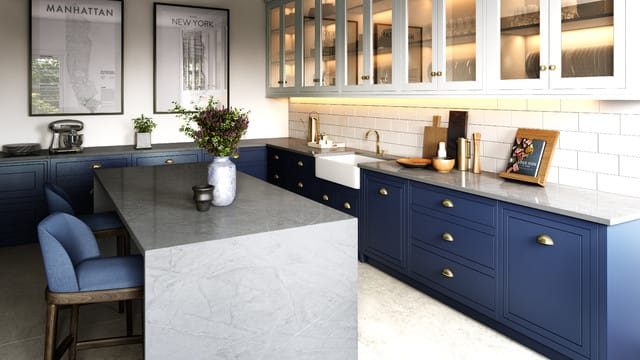 Dekton. Another popular engineered countertop material is Dekton, an ultracompact surface made through a process that heats and compacts raw materials used to make glass, porcelain and quartz surfaces. Gray Dekton with subtle veining was used for the countertops in this Miami kitchen.
"While we specify a lot of quartz, my current favorite option is Dekton," says designer Diana Burton of
Drury Design
in Glen Ellyn, Illinois. "It comes in many different patterns, some are bold and others are more subtle. So depending on the look we're going for, the countertops can be a dramatic focal point or a subtle backdrop for the other materials."
Dekton is also very user-friendly. "It's a super durable, compact material," Burton says. "It's stain- and abrasion-resistant and will not etch, and it holds up beautifully over time."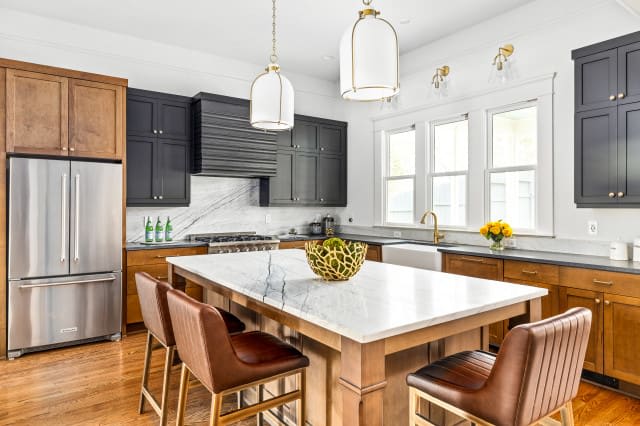 Marble. While engineered stone has come a long way in replicating the look of natural stone, for some designers and remodelers it's still hard to beat the appearance and feel of the real thing.
Designer Carl Mattison of
Carl Mattison Design
in Atlanta likes to use marble in kitchens for its authenticity and natural patterns. He used marble for the island in this recent kitchen remodel, but he went with a more user-friendly granite for the perimeter countertops.
"You can use real marble for pasta making and baking and it doesn't get as warm as engineered stone," Mattison says. "Of course, you should always seal the surfaces with good penetrating sealer, but realize some marks and spots may occur over time. Be kind to your counters by preparing and cleaning them well and they can last you a lifetime."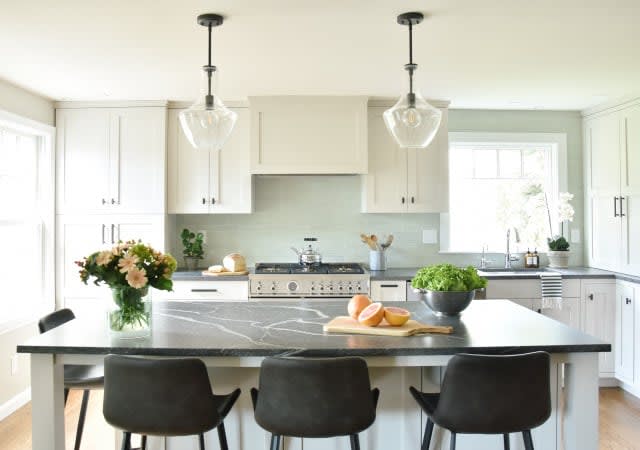 Soapstone. With its dark background and white veining, soapstone is another popular natural stone. It works well in traditional, transitional and contemporary kitchens.
"Soapstone can vary in color and grain pattern. I prefer a soapstone with a dark black undertone with prominent white veins," says designer Elizabeth Lord of
Elizabeth P. Lord Residential Design
in Denver. "The darker slabs are more durable and less susceptible to staining or etching. A wax can be applied to help maintain durability and longevity to the slab."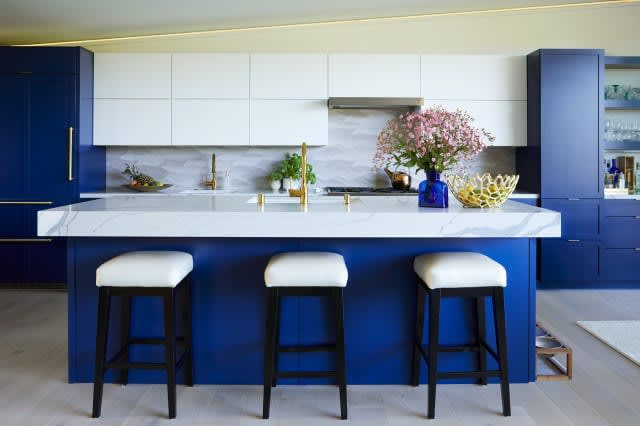 2. Thick Is a Popular Pick
The standard thickness for an engineered stone or natural stone countertop from a manufacturer is 3 centimeters (about 1.2 inches). But custom countertops can be specified to just about any thickness a homeowner wants.

Katsis, the Toronto kitchen remodeler, is currently loving the look of countertops with thick edges. "We mostly design with 1½-inch- or even 2-inch-thick edges," he says. "They give the counters visual weight and make them look more expensive and substantial."
"I want my countertops to be seen and provide a contrast to the surrounding materials," says Lord, the Denver designer, who likes to "beef up the edges" of the countertops in her current kitchen remodels.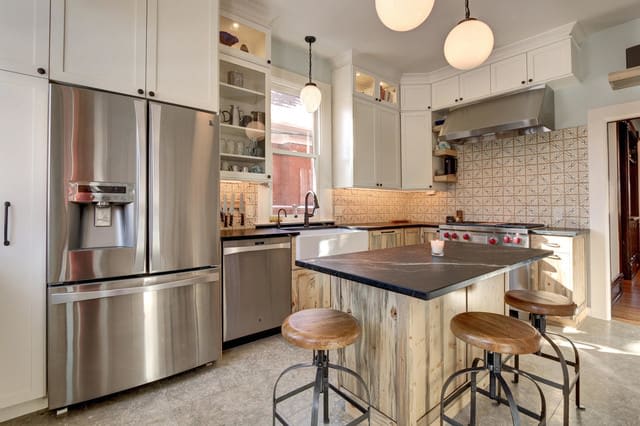 3. Mad for Matte
Nearly all of the designers and remodelers we talked to told us that countertops with matte finishes are hot right now.
Mattison, the Atlanta designer, currently prefers a honed finish for all of his countertops. With a honed finish, the slab has been ground to a smooth, flat surface that leaves it with a non-shiny, matte look.
The soapstone countertops in this recent Denver kitchen remodel have a natural matte finish. "I love the patina it has in its original form," Lord says. "It accentuates the light veining and adds depth and dimension to the material."
Kitchen and bathroom remodeler Austin Ardrey of
Christopher's Kitchen & Bath
in Englewood, Colorado, does offer a note of caution when it comes to matte finishes, which are more likely to show some wear and tear.
"Many brands are now offering matte, sueded or leathered-looking finishes as alternatives to the traditional polished finishes," Ardrey says. "They have a very unique look, but they do have some drawbacks depending on use. Polished countertops tend to be the most durable and resistant to showing use."