If you've decided that it's time to list your beautiful San Clemente real estate for sale, there are some key steps to take in order to facilitate a quick sale for top dollar.
The first step, naturally, is to hire a great real estate agent who knows the ins and outs of the market in this scenic Southern California beach town better than anyone else and will work hard toward a successful transaction.
The next thing on your checklist is to
stage your home
. If this is the first time you're selling a property, this concept might be new to you. If you're experienced at selling homes, you've no doubt staged a home before putting it up for sale.
Staging is a catch-all term for preparing your home, inside and out, so that it sparkles when buyers begin viewing it, either during an open house or in private showings.
When you stage the inside of your home, the goal is to give potential buyers the chance to envision themselves living in the home, with their furniture, décor, and other belongings. Think of it as giving them a blank palette to let their imaginations take over.
The steps of staging include decluttering, cleaning, painting, and doing any cosmetic repairs, and then arranging the furniture to really show off the floor plan of San Clemente homes for sale. The closer you can come to giving buyers that "wow" factor, the better chance you'll receive some top offers from people who feel they absolutely must have your home.
San Clemente provides a great backdrop. Now it's up to you to nail the prep work.
Benefits of staging San Clemente real estate
Yes, staging your home will take some time and effort, and maybe a few expenditures here and there. But don't worry, there are stats to show that staging is worth it.
According to the National Association of Realtors'
2021 Profile of Home Staging
, 82% of buyers' agents reported that staging a house helped in envisioning a residence as a future home.
The payoff is real for staging San Clemente houses for sale. The NAR's study found that 23% of sellers' agents reported an increase of 1% to 5% in buyers' offers for staged homes compared to homes that hadn't been staged. The same number of sellers' agents, 23%, said that homes that had been staged were on the market for fewer days than homes that weren't staged.
Tips for staging your San Clemente home for sale
Depersonalize and declutter
To get started, go from room to room and remove all possessions that simply don't need to be there. Real estate experts advise that you clear out at least 50% of everything in your closets, shelves, cupboards, the kitchen pantry, bathroom vanities, and any other places in your house where "stuff" has accumulated for years.

Buyers are going to poke and prod and peek into every available space in your home because they want to know how their belongings will fit in the home if they are lucky enough to have their offer accepted. Plus, decluttering will make your home look so much more open and inviting.

Look at it this way: decluttering gives you a head start on packing, which nobody really likes. This is a good chance to sort through your possessions and decide what goes with you when you move and what doesn't. As you declutter, pack up whatever you want to keep and then put those boxes in storage. All the other stuff can be taken to a nearby thrift store, tossed into the recycling bin, or thrown away.

This is also when you begin to depersonalize your San Clemente real estate. Take down all those family photos and remove any other personal possessions, including children's toys and your hobby items. Buyers will want to envision their family living in the home and will be distracted by reminders of another family. As hard as it is, it's time to start removing yourself emotionally from the home, despite all the years of memories you have built up.


Clean every nook and cranny
Now that you're opened up some space, give the home a deep cleaning. Scour the kitchen and bathrooms, steam clean the carpets, and dust and polish all fixtures. Remember that the kitchen is often the first room buyers will want to see, so have it looking shiny and functional. Clear off the counters as much as possible.


Touch up the paint
Every buyer who tours your home will have different tastes and styles, so it's best to paint the main rooms in a neutral color such as beige, gray, or off-white. You may have enjoyed a certain color scheme, but some buyers will feel overwhelmed. However, interior design experts say it's fine to paint one living room wall in a contrasting color, such as a pastel or earth tone that will be easy on the eyes and evoke the nearby Pacific Ocean or even the beach.


Thoughtfully arrange the furniture
The final touch for preparing San Clemente homes for sale is to arrange the living room furniture in order to focus on what makes that room special, such as a picture window that offers a breathtaking view of the ocean or a golf course. Remove any excess pieces and open up the room so foot traffic flows smoothly.
Arrange the furniture
in the master bedroom, family room, and home office. Leave enough furniture so the home doesn't seem bare and cold, but don't leave so much that it feels crowded.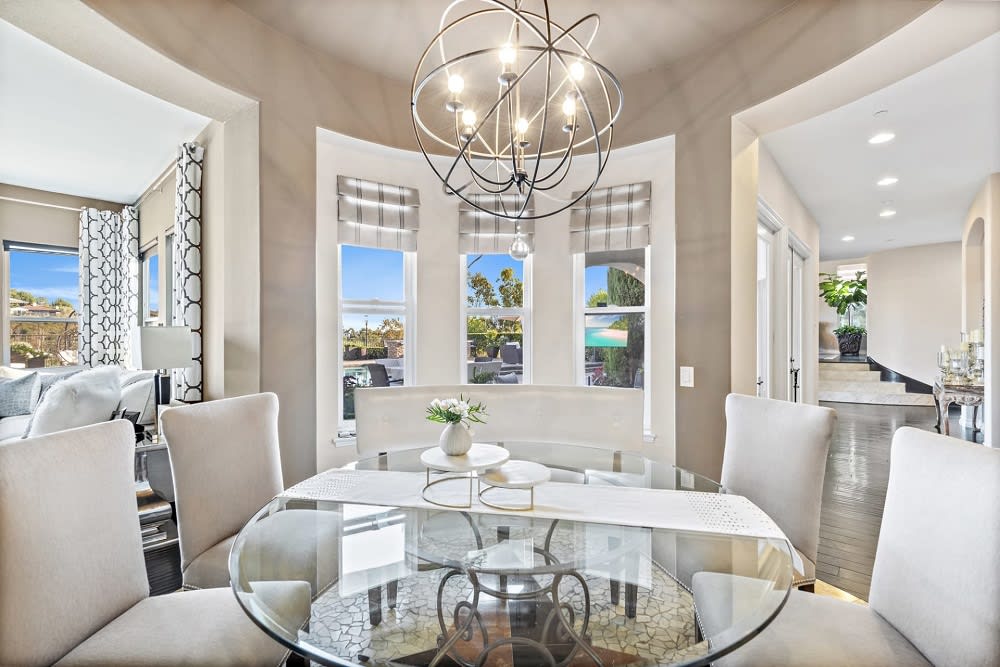 Light it up
Let the warm SoCal sunshine flow into your San Clemente real estate by opening up the drapes and even replacing heavy curtains with lighter ones. Before buyers arrive for showings, turn on every light to make the home warm and welcoming.


Spruce up your curb appeal
Be sure to spruce up your landscaping and the front of your home since that's actually where buyers will begin to form their first impressions.
If you plan to sell San Clemente real estate in the near future, let the
Echelberger Group
put its extensive experience in this special seaside town to work for you.