There's a reason that people keep coming to San Clemente. Whether one discovers they've fallen in love with San Clemente on a vacation, or moves here from up in northern California from the San Francisco Bay Area, this beach town leaves a mark on all who have spent more than an hour in its sunshine. San Clemente locals know the ins and outs of every neighborhood (there are nine different areas), but a person new to the area would be delighted to learn about each one and discover which are the best neighborhoods in San Clemente.
The true answer? There is no one best neighborhood in San Clemente. They are all unique in their own way, and yet remain true to the city's overall essence and soul ─ a laidback, romantic beach city that is cozy yet kissed with luxury.
There is a wide selection of San Clemente homes, drawing prospective homebuyers in for as long as the city has existed. Homebuyers looking to purchase real estate in San Clemente can find single-family residences, classic Spanish-Tuscan style homes in the master-planned community of Talega, cozy apartments close to the beach, and oceanfront beach cottages. For those looking to purchase San Clemente real estate in the luxury end, the city also offers beachfront condos, townhomes, and hillside estates with captivating views of the Pacific Ocean (where you can even see whales swim by for much of the year.) If you are a developer looking to purchase vacant land or lots in San Clemente, these options are present here as well, where your new dream home awaits.
Let's take a look at the different areas of San Clemente, so you can find which neighborhood may be best for you.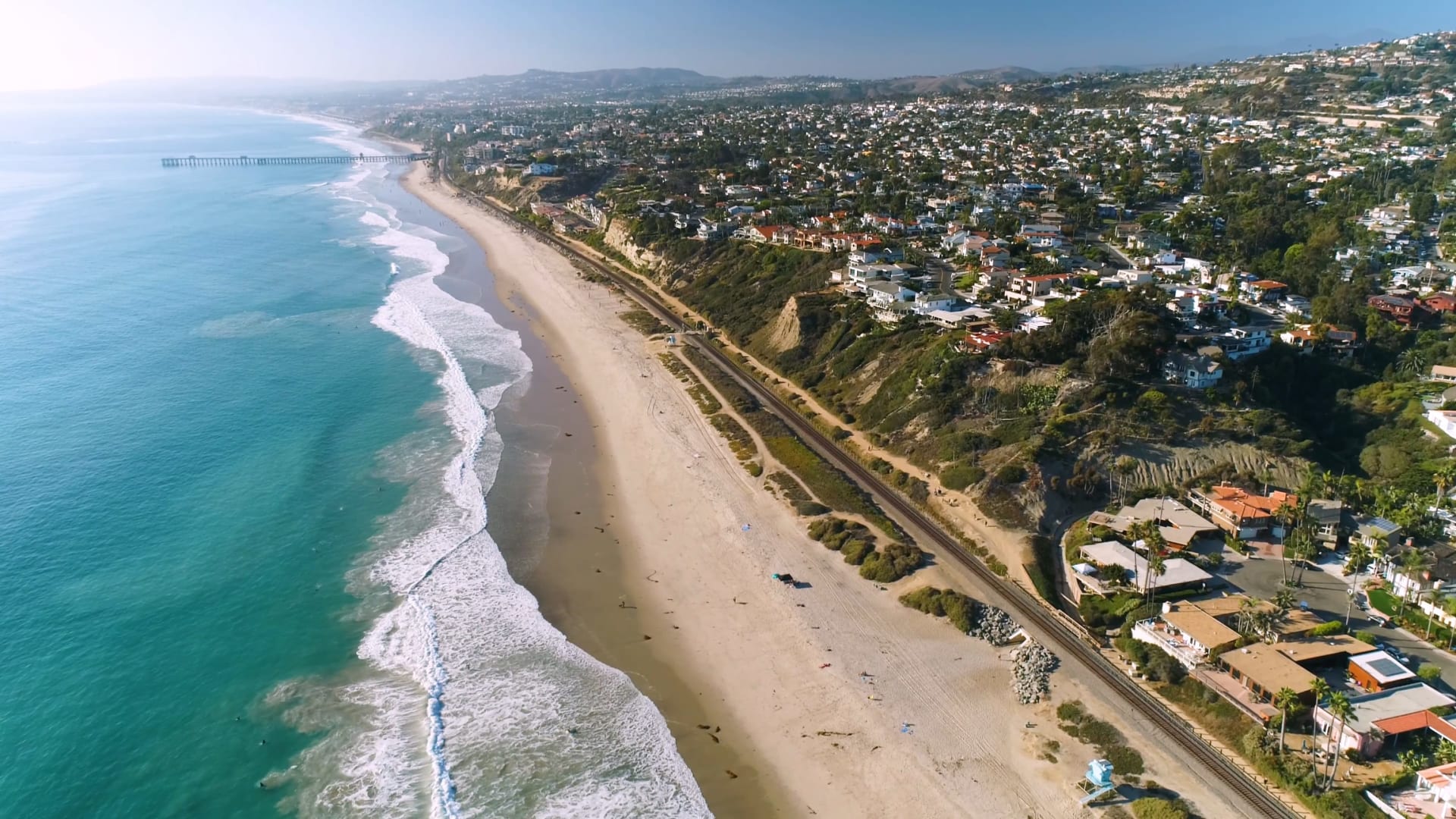 Southwest San Clemente
This area is considered to be one of the most expensive areas of San Clemente. The homes you will find in southwest San Clemente are custom homes, beach cottages, estates with ocean views, and historic "Ole Hanson" Spanish-style homes (which are named after San Clemente's founder, who envisioned the city with homes designed in the Spanish Colonial Revival style.) There are five private/gated communities here: La Ladera, Cyprus Cove, Cyprus Shore, The Breakers, and Cottons Point.) Cottons Point is famous for being home to the Western White House, where President Nixon once lived.
The best surf beaches in San Clemente (Riviera Beach, T-Street, and Trestles) are located here in Southwest area which makes it very popular among surfers and beachgoers.
Browse properties in southwest San Clemente here.
Southeast San Clemente
This area is a bit further away from the beach and water, but allows for more space. The homes in southeast San Clemente are located in the foothills to the east of Interstate 5, but have larger lots than those right next to the beach, resulting in a mix of larger custom homes, luxury condos, mid-century homes, Ole Hanson Spanish historic homes, and estate properties.
Golf-lovers can rejoice as any of these homes are right next to the San Clemente Municipal Golf Club, a championship 18-hole golf course designed by renowned golf course architect William "Billy" Bell.
The neighborhoods within southeast San Clemente are Mariners Point, Sea Ridge Estates, and Presidential Heights, all of which provide panoramic views of the fairway and the Pacific Ocean.
Browse properties in southeast San Clemente here.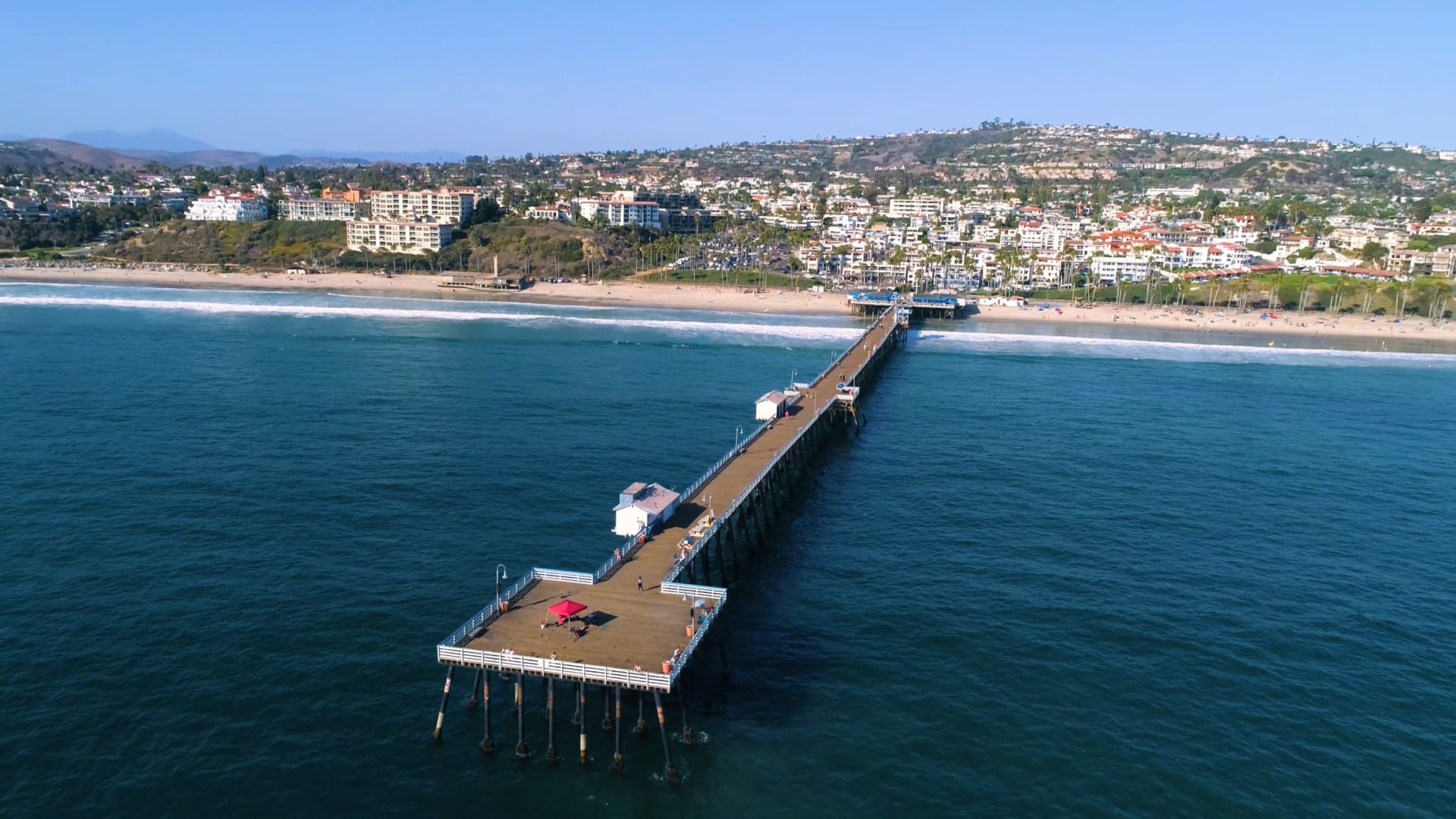 Central San Clemente
This is where the action happens! Central is where the downtown area is located, where you'll find the bustling street of Avenida Del Mar that winds its way all the way down towards the beach and the San Clemente Pier. Avenida Del Mar is lined with shops, cafes and dining establishments and eventually transforms into a residential area once closer to the beach. The homes you'll find in this area are single-family residences, townhouses, and condos mixed with duplex, triplex and fourplex buildings. Because of its proximity to the beach (just stretches away) and the Pier, there are a large number of rentals that can be found here in which visitors are known to enjoy during the beautiful summer months.
Casa Romantica Cultural Center and Gardens are here in central San Clemente and make for a lovely stroll with views of the ocean. San Clemente's founder, Ole Hanson, used to live in Casa Romantica.
Browse properties in central San Clemente here.
North San Clemente
The north side of San Clemente contains many well-known neighborhoods of San Clemente, including Shorecliffs and Sea Pointe Estates. Shorecliffs, a beach community, is home to a golf course and private beach, while Sea Pointe Estates is a gated community featuring mansions and stunning views of the San Clemente Pier, Dana Point Harbor and Catalina Island.
The homes you'll find here are a mix of single-family residences, beach cottages, condos, and estates, with some of the homes being original builds in the 1920s-1970s. The historic Ole Hanson Beach Club can also be found here, which was previously used as a wedding and event venue before it was closed for renovations.
Browse properties in north San Clemente here.

Coast District
The Coast District was named after the stunning ocean views that so many of its homes provide. It is in the east-central portion of San Clemente between the Forster Ranch and Marblehead communities. If you are looking to buy a San Clemente home and would like a bit more privacy and discreetness away from crowds and traffic, this is the place for you. The Coast District is set against scenic rolling hills and canyons and facing spectacular views of the Pacific Ocean.
The type of homes you will find in the Coast District are average to larger single-family residences here, located in gorgeous, winding hills and quiet cul-de-sacs. Sizes of lots range from traditional to expansive and spacious.
Now, while the Coast District is scenic and away from the crowds, its location is still conveniently close to downtown San Clemente and the Pier. Shopping, dining and surfing are all just minutes away. Residents can take a leisurely, beautiful stroll in San Gorgonia Park or tee off at Shorecliffs Golf Club.
Browse properties in the Coast District here.
Forster Ranch
Forster Ranch is one of the largest areas of San Clemente. Especially known for being full of family-friendly neighborhoods, most of the homes here are single-family residences and condos. Due to its location being on the non-coastal side of the Interstate 5, the lots tend to be much larger, with sprawling estates and Ole Hanson Spanish-style homes. Many of these homes offer ocean views.
All of San Clemente's main amenities and attractions, such as the San Clemente Pier, schools, parks, shopping, and beaches are all just a short drive away.
There are four gated communities in Forster Ranch that are collectively called "The Reserves." The four communities are called Reserve North, Reserve South, Reserve East, and Reserve West. There are many neighborhoods in the Forster Ranch area to check out, which include Ashton, Cantomar, Compass Pointe, El Encanto, Flora Vista, Glen Ridge Estates, Las Veradas, Rimrock, and Tocayo Ridge.
Browse properties in Forster Ranch here.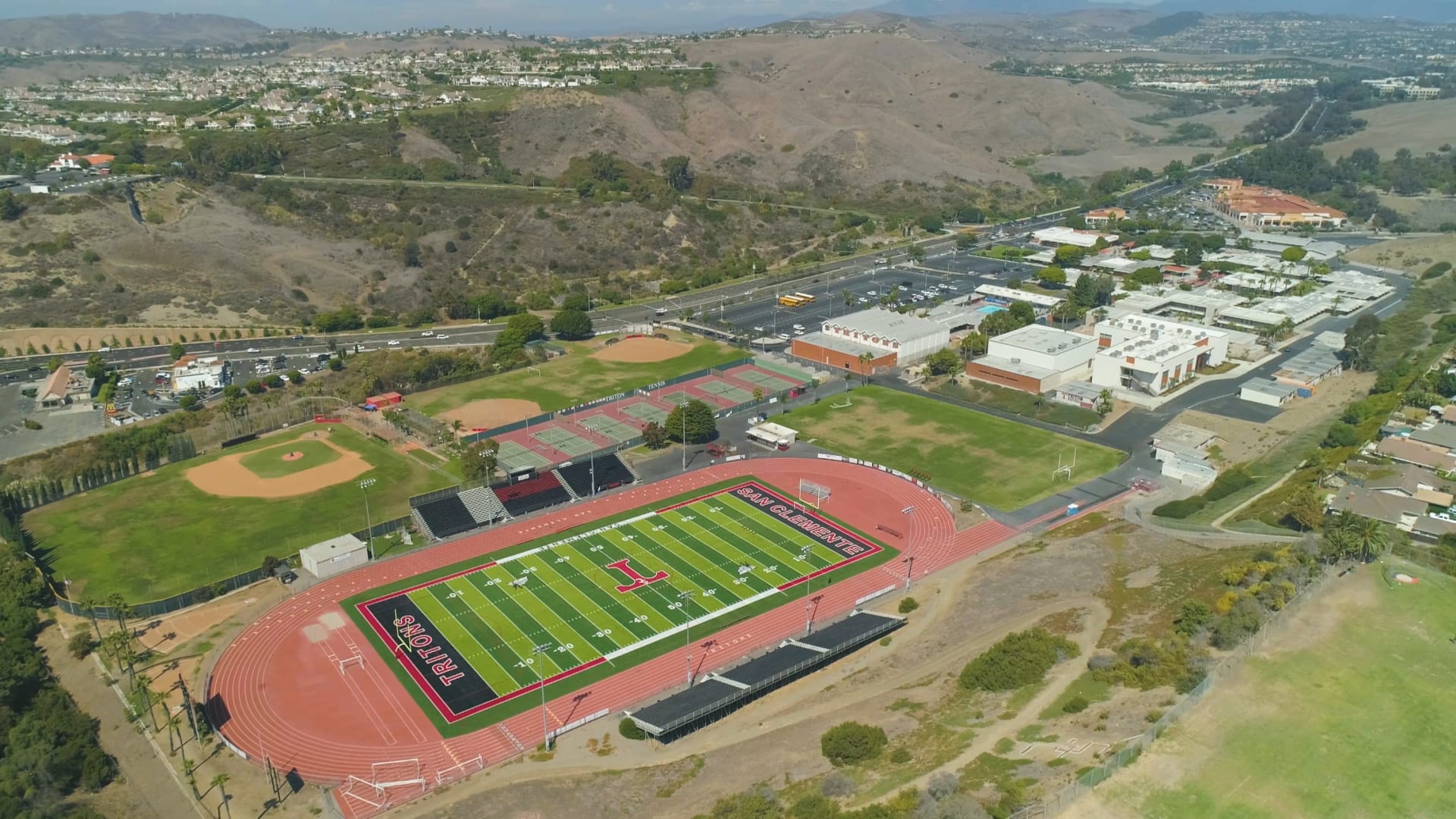 Marblehead
Marblehead is located in San Clemente's eastern central portion and is a planned community. You'll find in Marblehead there are private and gated communities, non-gated, and homes that include single-family residences and sprawling estates, though you'll also find townhouses and condominiums that even feature ocean views.
There is a community park in Marblehead that also features tennis and basketball courts. San Clemente High School, Verde Park, and other amenities are very close by. Some great neighborhoods (and gated communities) to check out in Marblehead include The Crest, Signal Point, Highland Light Estates, Highland Light Village, and The Summit at Highland Light, as well as the condo developments of Faire Harbor and New Providence.
Browse properties in Marblehead here.
Rancho San Clemente
When driving away from the coast up Avenida Pico, you will pass San Clemente High School and enter the community of Rancho San Clemente. Rancho San Clemente is surrounded by hillsides and canyons, and the streets here curve and branch out into smaller streets and private cul-de-sacs. The types of homes you'll find here include single-family residences, Spanish-style homes, estates and condos, and many of them offer views of the mountain, ocean, and coast.
Rancho San Clemente homes are close to the Bella Colina Golf Course, Rancho San Clemente Park, Albertson's shopping center, and the Rancho San Clemente Tennis and Fitness Club. Some of the neighborhoods to explore include Bella Vista, Brisa Del Mar, Harbor Ridge, Harbor View, Mandalay, Montego, Pacific Crest, Pacific Shores, Rancho Cristanitos, Richmond Pointe, Villa Pacifica, Villagio, and the condo development of Vista Pacifica.
Browse properties in Rancho San Clemente here.

Talega
One of the most well-known areas of San Clemente is the master-planned community of Talega. Doug Echelberger is an expert in Talega real estate and has a record of over 700 successfully closed real estate transactions in Talega. Talega is its own haven in San Clemente, and it is no surprise why so many are drawn to it. The residents in Talega enjoy a vast sense of community, and vastness of space thanks for 2,000 acres of wide-open spaces like parks, hiking trails, the Talega Swim and Athletic Club, the Talega Village Center, and the Talega Golf Club, an 18-hole, par-72 Fred Couples "Signature" championship golf course that is ranked as one of the top golf courses in the United States.
The community of Talega was initially built in 1999, and contains a large amount of distinctive neighborhoods with their own characteristics. There are over 40 neighborhoods in Talega in all; including Bella Vista, Cazadero, Farralon Ridge, Miraleste, Portomarin, San Lucar, Vizcaya, and more. There are also gated communities like Careyes, Lucia, Catania, and more. The Talega Gallery is unique in that it is an active lifestyle neighborhood that is designated for seniors. Talega is home to tract housing options that include single-family residences, Spanish-style homes, townhomes, and condos, and many of them have hillside and ocean views.
The Talega real estate market is extremely hot, which is why Echelberger Group produces its own regular issue on the market called The Green Sheet. View recent editions of The Green Sheet here.
Browse properties in Talega here.
Doug knows San Clemente like no one else does. He has been a resident here his entire life, and helps countless sellers and buyers with San Clemente real estate, making him the #1 top real estate agent in San Clemente.
If you have any questions at all about San Clemente or making a real estate decision, we are dedicated to providing you with the answers that will guide and serve you best. Please reach out to us at any time by calling our office (949) 498-7711, or you may book an appointment with Doug here: https://calendly.com/psir-doug.